Candy Gerry McCambridge!
This is Gerry McCambridge! Is this Candy Mentalist cute or what? Star of the first American major network mentalism special in fifty years, Gerry is known as The Mentalist. (In case you forget that when you run into him, look at the back of his sneakers, or at his baseball cap, they say "The Mentalist!") One of Joe's major best buddies--those two have way too much fun wherever there's mentalism to perform! When they were hanging out at the Golden Nugget in Las Vegas a while back, they got treated royally by everyone--only to finally find out everyone thought they were the two brothers who owned the place! They share another identity crisis, they both call each other Dunninger! Gerry is a hugely successful performer, doing hundreds of shows a year, making fun television guest appearances reading minds on lots of great shows, and he has been known to send Joe some pretty funny text messages when Joe is in important meetings at work! All that is great, of course, but what impresses me most about this Mentalist is he practically lives at Starbucks and calls it his office (venti white chocolate mocha!) and he once got a text message from Courteney Cox while he was hanging out with Joe! This Candy Mentalist is on the A-List!

Here are a couple of cartoons I did about Gerry for the PEA journal Vibrations. He's one of my favorite subjects because every story I hear about him makes me laugh, he's funny! To see more of my mentalism cartoons, visit my Cartoon Gallery here at Cindythings. You can also find two especially fun cartoons featuring Gerry in Cindy's Art Gallery on Page 16, the page with my special commissions, also here at Cindythings.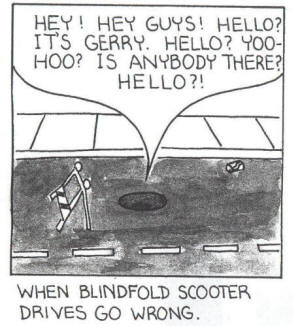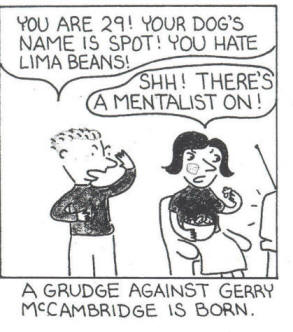 Copyright © 2006 by Cindy Atmore